Custom CRM Software Strategy:
Each organization is different from the others, and therefore the same set of CRM software, Readymade CRM Software can never fit in all the requirements. Everyone wants to Organize the business so the workflow is smoother and with a little workload.
The adoption of users has undoubtedly been the biggest obstacle to successful growth in the last 20 years. No matter how impressive the Inhouse CRM Software is and how strong the strategy is, if sales representatives do not enter data and do not record updates, the entire CRM system is failed.
"The adoption of the user is quite multifaceted and there is a lot involved in it." "You need to spend a lot of resources for the use of a new CRM system, but especially during the first six months." You can not do any exercise and assume that everyone will leave and only use it, some will and others will not.
"There is a struggle for this behavior to occur, and it can be a long-term struggle." Many resources put into the CRM systems relate to the purchase of technology and initial implementation but are often not oriented to support longer-term attractiveness to incorporate usage patterns. "
For me, there are two approaches. One of them is that it does not make the Custom CRM very good, but it does not spend a lot of money in its place: place a CRM tool there, it is available for users who want it, it is ad hoc and it does not invest much in it. The other is that you decide to really differentiate your organization by using Custom CRM Software, and it invests significantly. If you can do it and do it correctly, it can be a great differentiator and a great economic advantage.
"The place where you do not want to be is in the middle of these two scenarios, where you spend a lot of money but you still do not reach the goals. You have to go with Archiz Custom CRM Solutions.
A custom CRM software solution means software that you can customize according to your business needs, where you can manage and organize your data models, workflows, and automation.
Choosing a customized CRM solution gives you many benefits to help you win against your competitors. You can eradicate unnecessary steps by choosing a custom solution. The custom CRM solution is easy to use as you design it in a way that you are familiar with and that you do not even need to educate your employees as they are also familiar with your business processes.
CRM (Customer Relationship Management) is the key tool for handling customer information such as payment status, service start date, queries, etc.
Each organization is different from the others and therefore requires a custom CRM software so that they can make changes in accordance with their requirements. Organize the business so the workflow is smoother and with a little workload
The main advantage of a custom CRM solution is that it works as it does. You can increase the efficiency of your entire organization by making sure that your system adapts to your processes and operations, and not vice versa. You can consolidate all activities, clients, and other resource information as the solution can be customized to match previous names and forms, as well as adapt to the internet's jargon and business needs. This ensures users a high adoption rate as users will feel that the system is built up about their specific needs and that they will be able to adapt to it quickly.
What can you customize in CRM Software?
There is virtually no limit to the items that can be customized in your CRM solution. From fields to forms, not to mention business processes and workflows, you can ensure that your system has been changed to meet your specific needs and operations. Views and reports can be customized to provide you with the data and amount of details you need when you need it, so you get better visibility in your organization and the information you need to manage your operations.
There are many benefits that can be extracted from custom CRM software:
Customer database organized

Give the best user interface / UX as needed.
Maintain specific types of transactions.
Automatic functions can be enabled for the specific task, such as sales, marketing, etc.
It can be integrated with the social network platform or analytical tools.
Easier to use
Better lead management
Reasons why you need to customize the CRM Software Solution
The pre-created CRM software is created to attract most businesses. This means that they are created according to the general need of the entire organization. It can include all kinds of features and characteristics that may not be relevant or useful for your organization. So, why should I pay for these features that you do not need?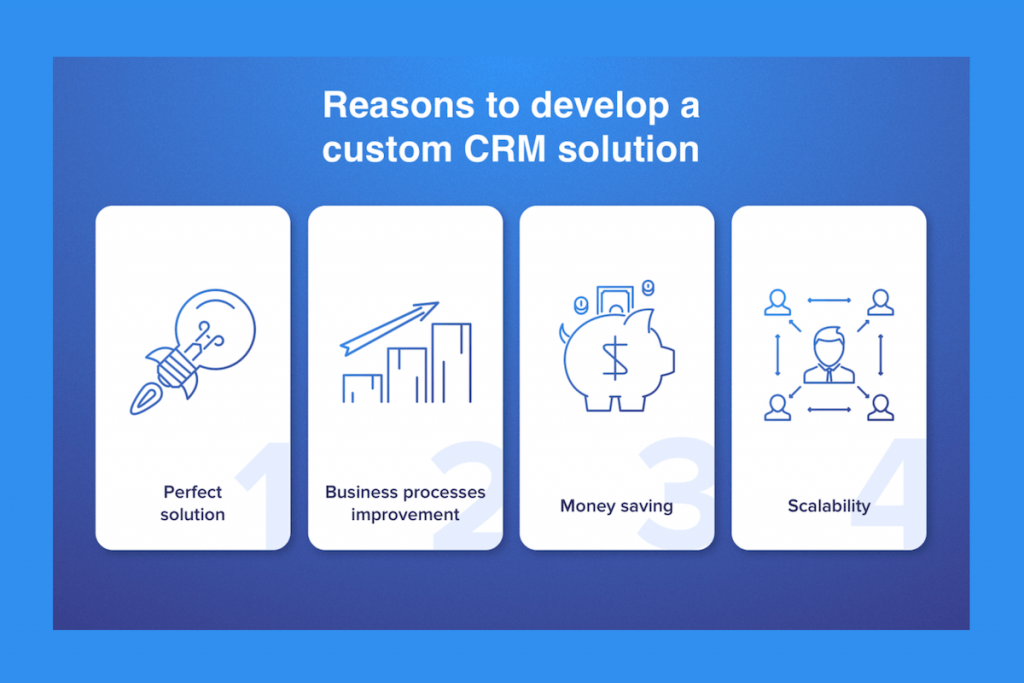 Suppose you are looking for CRM software for your sales departments, generations of managers and contact management, and you get software that includes everything from the integration of company social networks to complex marketing functionality that is not relevant to you In this case, you must learn the entire software package to extract a fraction of the work.

With the customized CRM software solution, you get exactly what you want without unnecessary things.
With this customized CRM software, you can integrate and automate many other areas of your business. From sales to customer service, to technical support, for daily operations.
Suppose a software company asks our organization to create CRM software. First, they just need to maintain the database, after some time expanding their business, they need marketing. For this, they can expand their system without interruption in the company.
An advantage of customizing the CRM software solution
The great advantage of customizing the CRM software solution is that it works just like you. You can increase the efficiency of your organization by making sure that your system adapts to your processes and operations, and not the other way around.
There is a list of an industry who is using Custom CRM Solutions in there business, such as Custom CRM for Call Center, CRM for Hotel industry, CRM for Education Industry, CRM for Real Estate Industry, CRM for Healthcare Industry and so on.
What is CRM Software | Benefits of CRM System| How CRM Tool can help Sales/Startups