Now a Days, Study consultants abroad play an important role in promoting education abroad. It is a great job to help the students apply for their aspiring courses. And besides, there is tremendous pressure to manage leads, fees, visa applications, especially for them a customized CRM software, the real treatment. Now, numbers of CRM development company are available in the market, but for overseas education consultancy, overseas advisors are looking for the most suitable CRM software for their Business.

Well, this article can help you to choose the best overseas education consultants CRM software according to your requirements and thus analyzing them for the following features in the form of parameters.
1.Immigration CRM for Study Abroad Consultants is capable of managing the leads.
Lead is the best way to build your business toward high revenue generation. They are coming from different sources through websites, social media platforms and calls, in any way, coming or outgoing. All those leads should be maintained in a safe and secure manner. It can also help you find your lead and its position easily.

2. Integration with other App
Immigration CRM software should be efficient to provide integration with your website and the Study Abroad Agency social media page and Third-party application,such as Indiamart, Justdial etc. so that you can save time and there will be no lead in email, all enquiry will directly insert in your CRM.

3.Quick Lead Capturing
In addition to managing the current leads, Immigration CRM software can easily import all the information of lead input into Excel Sheets/ CSV File/ QR Code Integration. This means that you do not need to manually enter the previous inquiries from Excel Sheet or any other student relationship management software.

Lead management software should be simple to handle follow up, situation and further procedures such as enrollment, consultation and complete application process.
CRM software for Study Abroad should be capable to define package plans and student agreements.
In order to standardize your offices, software should be adequately flexible to manage packages and funds, it should be a facility that ensures the packages and plans available in your Overseas Education Consultants, giving a better clarity to the new consultants/agents. CRM software for Study abroad Consultants, the accounting department should be mentioned.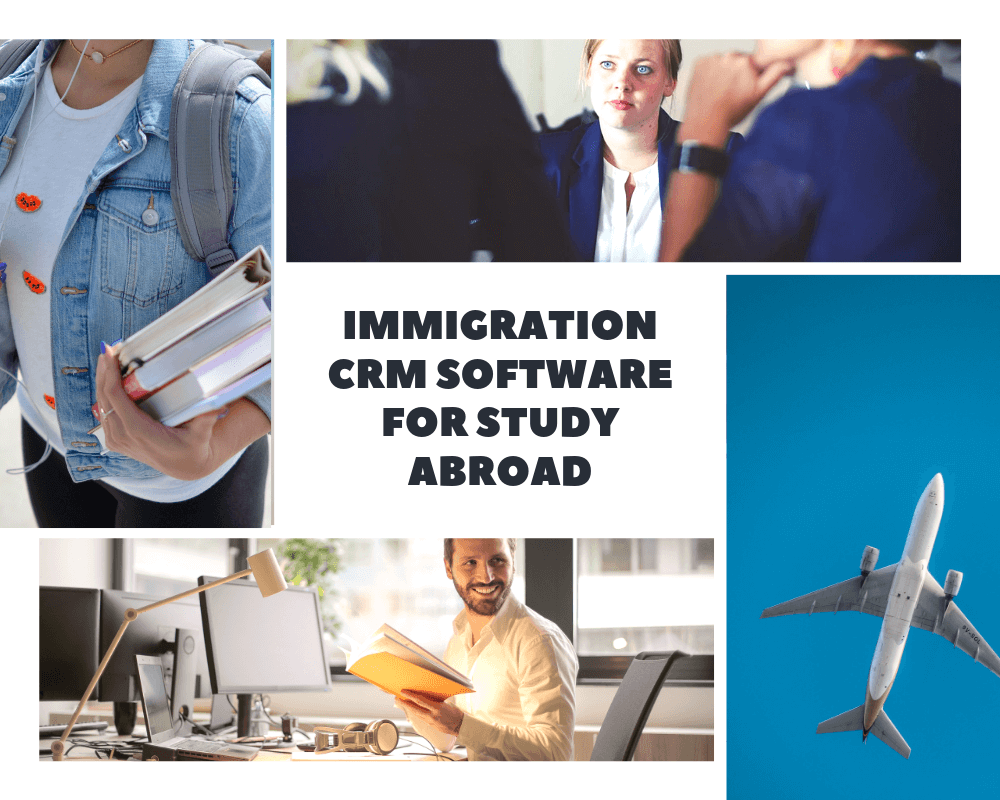 CRM Software for Study visa consultants should be available to increase the invoice for payment. Along with this, you need to easily plan and determine all your installments and various taxes so that the receipts can be easily generated against the students.

Visa Consultants CRM software should be effectively strong and secure document management system
Your software should have a facility that can handle all your student application documents, where you can save documents by uploading a Mark Sheet, Certificate, Work Experience Letter and SOP and many such important documents. These uploaded files can be viewed and downloaded at any time.

These documents should be maintained and managed according to the names and ID of the students, finding documents will be quite easy.

For study different visa applications in different countries require a different set of documents. Thus, a checklist for documents and reminder for pending documents will be required.

There should be a facility in your Study CRM that can manage students' applications.
CRM software for Study Abroad should have the ability to manage apps The process includes identity, communication, sending student applications, receiving proposal letters, depositing fees and student visa processing etc.

There is a real competition in the market where you can never leave the chance to lag behind in the student application process and the business is about to close all the applications till the end.

Immigration CRM Software should include the facility that allows the student to apply for multiple programs in the same institution or various institutions. Each application will have the status of one application at a time, you can always see full status history with the click of a button.
Immigration CRM for Study abroad should be easily facilitated to manage information with probability and student entry steps. Your software should be adequately enabled to track your applications with all 360-degree visibility with your students' visa process, institution invoicing and payment.

You can also manage and configure your application status. You can receive and generate alerts to councilors and country managers who can be notified by current events.

Visa Consultants CRM software must have the ability to deal with universities.
As a Study Abroad Consultant, you need to do business with institutions, which will be in the students . In this way your study visa consultants need a proper relationship management with student & universities.You should also have an option to save the agreement between your institution and agency, Immigration CRM software will be able to give you alerts and reminders before any of your agreement ends.
Dashboard: Graphical Visualization for data:
Immigration CRM Software dashboard should be more likely to be user-friendly It should be a homepage of the listing of the upcoming Leads, along with the latest information as well as the summertime reports with pi chat and in the other graphical form.

CRM software should have role-in-security protection.
Security has always been a key role in any software. All types of business solution providers understand how important the data is to you as a study visa advisor. In this way, software development companies have deployed their minds to present a safe, secure and integrated study abroad consultants CRM solution.

At each level, users should be able to access relevant data, it can be confined to a personal level, branch level, team level etc. , managing data according to the hierarchy of many levels of your study visa Consultants. Immigration CRM software should be flexible so that you can create your own hierarchy instead of working on the existing hierarchy.
The number of CRM software provider is available in the market, but you need to look for those services that cover all your to-do lists. It should be a solution to all your worries, not for the sake of work. While handling VISA procedures, Immigration CRM software will need flexibility, ease to work on your workplace.

If you like this article, feel free to share and make people aware of how to choose the right CRM solution for their visa consultation. If I miss, you can ask anything in the comments section. Or can talk to our expert directly. Call Now 9717963903 ,
As recently Awarded by CIO Reviews, Archiz Solutions is a #1 CRM Software development company in India.